Reviewed by Johnny McNair
Magnolia – 90 minutes – 2011 – Rated R – 1080p Widescreen 2.35:1 – DTS 7.1 Audio Mix – Digital Copy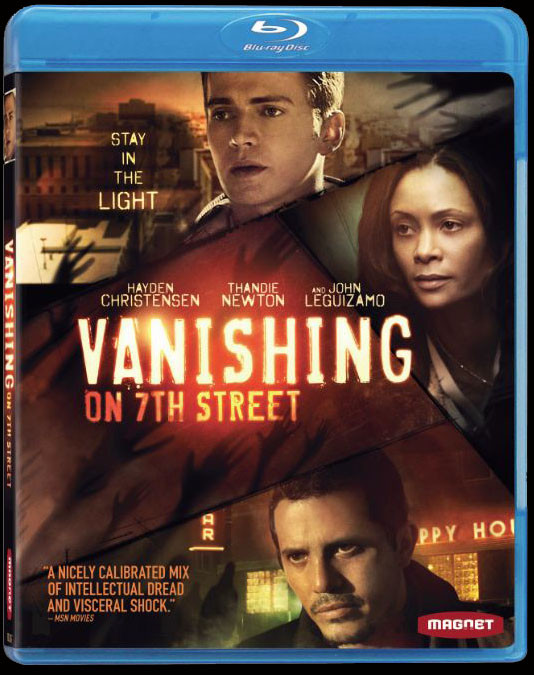 It's hard not to watch Vanishing on 7th Street and not think it's an M. Night Shyamalan movie. It does have similarities in the way it's set up and how the characters are outlined, and even stars one of the actors from a previous Shyamalan film. Mr. Shyamalan has nothing to do with this production, so whether or not you like it or hate it, remove him from your thoughts. The dark thriller Vanishing on 7th Street comes to Blu-ray from Magnolia, hoping to creep you out in all the right places, and in some ways it's effective, but you may also feel that you've seen it all before.
THE MOVIE
Vanishing on 7th Street is about four random strangers who will meet because of one unexplained incident. In the city of Detroit, a shy projectionist who works for a local movie theater named Paul (John Leguizamo) is just a guy doing his boring job until the power goes out and he exits his booth to find a theater full of fallen clothing where people once stood. In another part of town, Luke (Hayden Christensen) is a news reporter wakes up to find all the power is out and steps outside to find a similar scenario on the streets with people's bodiless clothing seen everywhere. At a local hospital, Rosemary (Thandie Newton) steps out for a cigarette, and zap, she returns to find the same mysterious scenario. None of them know why this has occurred, but they all learn fast that light is the key to survival; even a small flashlight can be the difference between life and death.
At night shadowy figures can be seen of the people's souls that have been sucked away, as they wonder around looking for others. A bar in town, which still has power thanks to a generator, becomes the safe zone for all three people, and this is where they meet a young boy named James (Jacob Latimore) who missing mother owns the bar and he's waiting for her to return. This is the central location where the characters must work together to figure out a way to survive and escape before all access to anything that can provide them light expires.
Directed by Brad Anderson, who helmed the excellent film The Machinist, does all he can to hold this movie together, but the problem is that it's too familiar to other movies out there like The Happening, where an unnamed event occurs, which makes you curious, but then the outcome doesn't pay off. Obviously films like this work better when you don't give an explanation to why such a thing has happened, but when the characters are cut and paste, it's hard to keep the flow interesting.
Christensen is just walking through the film without making any effort to stand out; and Newton, who can be a good actress, seems to have been miscast and is not attempting to give any performance beyond what has been outlined. Leguizamo is again trying hard to be a character actor, but always plays the same character that he usually those, which is the sympathetic everyman who will eventually die. The youngest actor in the film, Latimore, gives the best performance because it's based on him reacting to everyone around him, which gives him the chance to be the strongest character in the story.
Vanishing on 7th Street is basically one long episode of the Twilight Zone mixed with Night of the Living Dead. Though it does have some interesting moments in the beginning, if the script was stronger it could have been a very intense film. Thrillers set in one basic location must have strong and interesting characters to keep you immersed, but this is where the film stumbles, because the premise is solid.
VIDEO
Vanishing on 7th Street comes to blu-ray with a full 1080p image in a 2.40:1 aspect ratio. Being that the film was shot digitally, many of the darker scenes don't have the strong resolution that you would get from film, so blacks have an odd tone. Colors are not as bright and strong as they could be, looking somewhat washed out in spots. A movie such as this would have benefited from dark photography that would have leant to the mood and creep factor. Overall, the image quality is good, but at times you can blatantly see that this film was shot on a digital format and that may distract you from the setting and pull you out of what the director wanted to achieve.
AUDIO
The sound for the film is a huge step up over the video, featuring a strong DTS-HD 7.1 audio mix that that will have you constantly looking behind you. When the dark souls are roaming around and the main characters are trying to escape them, the sound will immerse you fully. Dialogue is well balanced and clear, but it is the sound effects that are the true star of the show. All the speakers in your system will get a chance to show what it can do, so if you watch this one in the dark, you'll be drawn in.
EXTRAS
The bonus features available are very skimpy and most will be over before you can even blink, but there is a Digital Copy available for those interested.
Director Brad Anderson provides an audio commentary track that is interesting in places and worth a listen.
The Alternate Endings option is a waste, because it's just the same scene repeated with a slightly different that does nothing to change the outcome.
Revealing the Vanishing is a basic and quick on the set look at the film, featuring interviews with cast and crew.
Creating the Mood on 7th Street has the director Anderson and the film's writer Anthony Jaswinski talking about the setting of the film.
The Fangoria Interviews is the longest piece in the batch running thirty minutes as the famous horror magazine interviews Anderson about the film.
BOTTOM LINE
Vanishing on 7th Street is not a bad film, it's just that after a very good set-up the film doesn't attempt to do anything new and plays out like various other films. The Blu-ray has decent picture quality, but it's the sound design that stands out. It is recommended that you give this one a rent before you decide to add it to your horror collection.
SCORES (Out of 5):
The Movie: 3.0
Video: 3.5
Sound: 4.0
Extras: 2.0
Bottom Line: 3.0