Reviewed by Johnny McNair
Lionsgate – 96 min – 2012 – Rated R -1080p – 2.40:1 widescreen – DTS-HD 5.1 Audio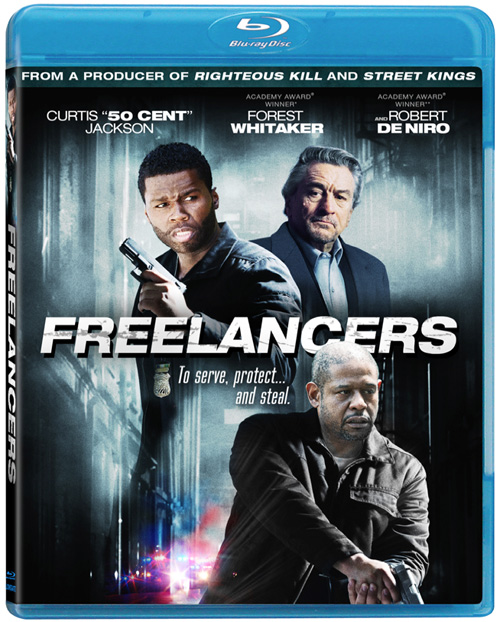 The first thing you will say when you see the box cover for this Blu-ray is why are Oscar winning actors like Robert De Niro and Forest Whitaker in this D-List movie? The obvious answer is money, but there must have been better projects out there. Curtis "50 Cent" Jackson is a talented musician, and his desire to transition into motion pictures is normal for anyone in his position, but if he wants to be taken seriously as an actor like De Niro and Whitaker, he's going to have to stay away from projects that have straight-to-video written all over them. Freelancers arrives on Blu-ray from Lionsgate, and though it attempts to be gritty and deep, it comes off like a watered-down Training Day.
THE MOVIE
Three tough kids from the streets of New York, Malo (50 Cent), Lucas (Ryan O'Nan), and AD (Malcolm Goodwin), who were once drug dealers themselves, have put their life as criminals behind them and become police officers. Though he is a rookie cop, Malo is approached by Captain Sarcone (De Niro), who lets him know that he knew his father who was also a cop, and the unit he works for is corrupt, but if he sticks with him he will guide him down the right path.
Sarcone pairs Malo with his top man, LaRue (Whitaker), who is strung out on dope and booze, but still thinks he's in control. Malo immediately becomes seduced by the corruption and experiences first hand how money is stolen from drug dealers and goes into the pockets of specific cops who follow a code of silence. Malo thinks he's smart enough to dethrone Sarcone and eliminate LaRue by bringing his friends Lucas and AD into the mix, but things don't go as smoothly as planned leaving a lot of blood on his hands.
Freelancers has every corrupt cop cliché that you have seen in a zillion movies and TV shows. You would think that powerhouse actors like De Niro and Whitaker could save this film, but both thespians seem to be phoning it in. 50 Cent produced this film and brought in Jessy Terrero, who directed several of his music videos to helm it. The intentions of the film are good, but it's the execution that will leave you twiddling your fingers because everything plays out exactly as you would expect with no surprises or a payoff. If you're a big 50 Cent fan, you may enjoy elements of the film, but if you desire something better then see 50's debut film, Get Rich or Die Trying.
VIDEO
With a full 1080p image locked in a 2.40:1 aspect ratio, Freelancers looks. Director Jessy Terrero has directed so many hip hop videos that he has the look down. There are plenty of night scenes and characters standing around in dark rooms, and these are displayed very well. Details are sharp and facial tones are solid without being to over saturated. Overall, this is a decent transfer that should satisfy the viewer.
SOUND
The sound is pumping in Freelancers, but with 50 Cent as the star and Terrero as the director you wouldn't expect less. The Blu-ray offers a DTS-HD 5.1 mix that highlights crisp dialogue, great New York City street ambience, and gunshots and screeching tires. And of course the music soundtrack is booming, so if you don't like Hip-Hop, you're watching the wrong film.
EXTRAS
50 Cent and Director Jessy Terrero provide an audio commentary track, but there's nothing much here to hold your attention.
Behind the Scenes is exactly how it sounds, giving a glimpse at the making of the film.
Extended Interviews with Cast and Crew is a roundup of all the players involved with the production talking about their work on the movie.
Eleven deleted scenes can also be accessed including the alternative opening.
BOTTOM LINE
Freelancers won't win any Oscars, and probably won't be remembered, but if you're a 50 Cent fan it's at least worth a rental. The Blu-ray offers good video and sound quality and a mild variety of extras. In the end this is just another corrupt cop movie that you've seen done far better in the past.
SCORES (Out of 5):
The Movie: 2.0
Video: 3.0
Sound: 3.5
Extras: 2.5
Bottom Line: 2.5