Reviewed by Johnny McNair
Disney/Buena Vista – 150 min – 2012 – Rated PG-13 -1080p – 2.40:1 widescreen – DTS-HD 7.1 Audio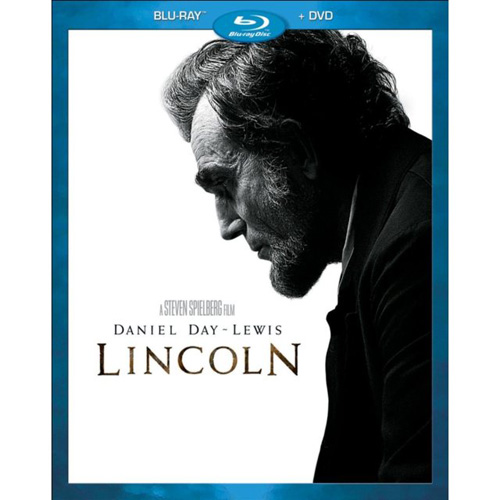 If you qualified as an academy award voter, halfway through watching the movie Lincoln you would stop and just think to yourself "And the Oscar goes to Daniel Day-Lewis." Lewis is one of the few actors on the planet who can 'really act' meaning that when you watch a film he's in you are one hundred percent convinced that he has transformed into someone else. Now combine his acting talents with the directing skills of Steven Spielberg and you've captured lightning in a bottle. Lincoln is available on Blu-ray from Disney/Buena Vista and despite its lack of bonus material this one is a must for your collection.
THE MOVIE
If you were hoping this would be an epic biopic about the life of America's 16th President, Abraham Lincoln, you're going to have to watch the History Channel instead. This film focuses on one key moment in Lincoln's presidency, but it is a moment in time that reshaped America. The movie jumps right to the final stages of the Civil War in 1865, where Abraham Lincoln (Daniel Day-Lewis) is attempting to accomplish a feat that no one else would attempt. Before the war ends he sets out to have the 13th Amendment passed, which would ban slavery completely in America. To do this he would need the House of Representatives to pass the act, thus highlighting the focus of this movie, which are the actions that were taken to make this historic event a reality.
Daniel Day-Lewis' performance as Lincoln should be placed in a time capsule for future generations to witness, because there are no actual video footage of Lincoln, this is as close as you're going to get. In addition to Lewis, the ensemble cast should also be noted for their performances, such as Sally Field who portrays Lincoln's wife Mary Todd, Tommy Lee Jones as Thaddeus Stevens, and Joseph Gordon- Levitt as Lincoln's son just to name a few.
Throughout the film director Steven Spielberg gives the cast, whether it be a major or minor role, their moment to shine. Tony Kushner's strong character based screenplay is the backbone, because he gives the actors plenty of meat to chew on. But without a doubt, this is Daniel Day-Lewis' movie and he strongly holds up the tent pole that lays the foundation for the whole show.
Some historians have said that the film is not accurate and there were important factors that were not outlined, but what film based on history is completely pure to the source? This is a movie where the purpose was to display a moment in the time of Lincoln's life and the end of slavery, and it works on that level. Anyone who wants more detailed information can read a book to get more information on Lincoln and the 13th Amendment. This movie is highly recommended.
VIDEO
Offering a full 1080p image in a 2.40:1 aspect ratio, Lincoln looks amazing on Blu-ray. Cinematographer Janusz Kaminski, who previously worked with Spielberg on Saving Private Ryan and Schindler's List, gives the film a classic look that resembles a live action history book. Colors are muted and many aspects are shot in the shadows as a metaphor for the chaotic war. Skin tones are sharp allowing you to see every line on Lewis' face as he transforms into the 16th President. Overall, unless you nitpick, this one is close to flawless.
SOUND
The audio compliments the video with a meticulous DTS-HD 7.1 sound mix that will fill your living room with the essence of 1865. This film is all about the dialogue, so you will hear every line in such perfect clarity that you'll feel like you're in the room with the cast. If you have a nice surround sound set-up, the mix also makes a good use of all the ambient sounds of everything from Lincoln's heels as he paces around a room, to the rustling and mumbling of the crowd in the House of Representatives. Top this off with a top-notch score by John Williams and you've got gold.
EXTRAS
This two-disc set is very light on bonus features only offering a standard DVD version of the film and two (very short) featurettes.
The Journey to Lincoln is barely ten minutes long and features Spielberg, screenwriter Kushner, producer Kathleen Kennedy and Daniel Day-Lewis discussing the long road it took to get this movie to the screen.
A Historic Tapestry: Richmond, Virginia is less than five minutes and gives a brief explanation why the filmmakers chose this as the location for the movie.
BOTTOM LINE
Daniel Day-Lewis won the Oscar for his performance as Lincoln, and he absolutely deserved the honor. This Blu-ray delivers on image and sound, but the bonus features leave a lot to be desired. Oddly, there's also a 4 disc version of the film which offers more supplemental features, but the choice on which one to get is up to you. Either way, Lincoln is a good film that puts the spotlight on a monumental event in American history and earns a place in your movie shelf.
SCORES (Out of 5):
The Movie: 4.5
Video: 5.0
Sound: 5.0
Extras: 2.0
Bottom Line: 4.0